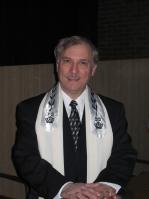 Rabbi Daniel Fried has served Congregation Anshe Emeth since 1980. A third generation rabbi, he was groomed for the profession over the course of his childhood and adolescence by his father, the late Rabbi Philip Fried.

Rabbi Daniel Fried received rabbinic training both in Jerusalem and in New York. He also took graduate courses in Jewish Studies at the Hebrew University in Jerusalem and at Dropsie College in Philadelphia. Rabbi Fried is a Certified Jewish Educator and holds a Permanent New York Secondary School Teaching License.

He is the only full-time rabbinical professional in the Mid-Hudson Valley, and as such has numerous responsibilities. Rabbi Fried is the spiritual leader and cantor of the synagogue as well as its primary religious educator. He is a chaplain with the Greenport Police Department and visits the local hospital and area nursing homes on a regular basis.

Rabbi Fried is the head of public relations for the Jewish community. He is active on the Hudson Interfaith Council. A founding member of the organization, he has held several offices and is the permanent chairperson of the annual Holocaust Memorial Service committee. Rabbi Fried enjoys a very cordial relationship with other area clergy.

Rabbi Fried is married to the former Denise Mandel. The couple have two children, Joel and Joshua.